What's New?… Where Can I Find It?
>  Looking for the Book Club Zoom link?  Click on the Book Club button above.
You will find the Zoom links for meeting on the 2020-2021 Programs page.

---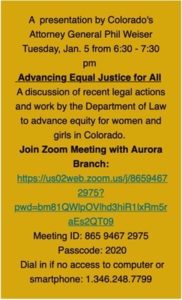 ---
AAUW-US 2-Minute Call to Action Today!
Tell Congress: Crisis Relief Can't Wait!
Congress has not worked on a comprehensive relief bill in over three months, while another 100,000 people died from COVID-19. With 13.5 million cases and nearly 270,000 dead, our nation needs help now.Key unemployment benefits, emergency paid leave and sick days, and eviction protection programs are all set to expire on December 31. As crisis relief negotiations drag on, we must make sure that our elected officials hear from us loud and clear: do not leave the Capitol without passing a comprehensive relief bill.Congress is scheduled to leave for the winter holidays on December 11—they must not leave without acting to help Americans weather the crisis. Contact your elected officials in the U.S. Senate and House of Representatives today:
https://www.aauw.org/act/two-minute-activist/crisis-relief/?emci=7dd8aa98-023b-eb11-9fb4-00155d43b2cd&emdi=8d535023-093b-eb11-9fb4-00155d43b2cd&ceid=3025023
---
Upcoming Events…
>

We will welcome in the new year with our January 18 meeting.                                                           Presentation topic: Habitat for Humanity
---
> 

Save the date!  2021 Public Policy Day
To be Held Via Webinar February 6, 9:00am – 1:00pm
Keynote Speaker: Angie Paccione, Executive Director of CO Department of Higher Education
For more details, click on the AAUW – Colorado  button in the page listings above.
---

AAUW's Value Promise
By joining AAUW, you belong to a community that breaks through educational and economic barriers so that all women and girls have a fair chance.
The American Association of University Women (AAUW) empowers women and girls through advocacy, education, philanthropy, and research. Our nonpartisan, nonprofit organization has more than 170,000 members and supporters across the United States, as well as 1,000 local branches and 800 college and university partners. Since AAUW's founding in 1881, our members have examined and taken positions on the fundamental issues of the day — educational, social, economic, and political.